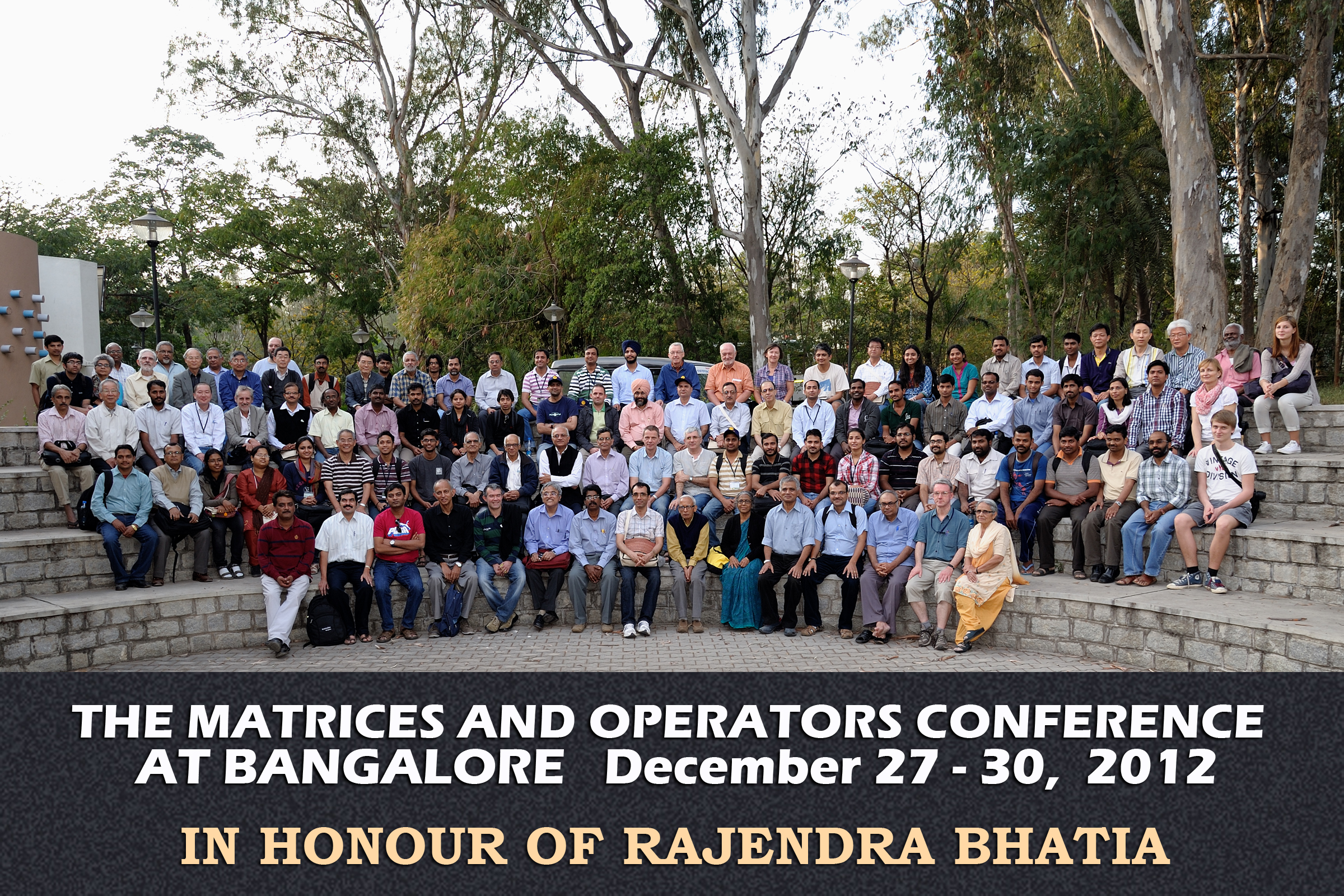 The conference
Rajendra Bhatia is turning sixty in 2012. Since many of us know that his contribution to mathematics has been beautiful, we take this opportunity to hold a conference in the southern Indian city of Bangalore. Bangalore is widely known as the science capital of India. Apart from the century old Indian Institute of Science, Bangalore has a centre of the Indian Statistical Institute, the Raman Research Institute, Indian Academy of Sciences, Indian Institute of Astrophysics and many other seats of education. As we know, Rajendra's work is very diverse and encompasses many areas of mathematics. Hence this milieu for the conference.
Confirmed participants
Speakers:
Rajeeva Karandikar
Peter Semrl
Ren-Cang Li
Shmuel Friedland
Kalyan Bidhan Sinha
Tsuyoshi Ando
Fumio Hiai
Il Bong Jung
Takashi Sano
Stefano Serra
Mitsuru Uchiyama
Yongdo Lim
Abbas Salemi Parizi
Rien Kaashoek
Dinesh Singh
J. Martin Lindsay
K. R. Parthasarathy
Franciszek Hugon Szafraniec
Dan Timotin
Sangho Kum
Dario Bini
Registered participants from India and their accommodations:
Praveen Agarwal, Jaipur - JVH
A. Arockiasamy, Palayamkottai - Hoysala
Vinay Arora, Hoshiarpur - JVH
Jaspal Singh Aujla, Jalandhar - Hoysala
R. B. Bapat, Delhi - CVH
Sasmita Barik, Bhubaneswar - Hoysala
Deepjyoti Borgohain, Guwahati - JVH
Gopal Das, Jalpaiguri - JVH
P. K. Das, Kolkata - Hoysala
Venku Naidu Dogga, Indore - JVH
J. R. V. Edward, Nagercoil - JVH
Priyanka Grover, Delhi - JVH
Akhlaq Husain, Jaipur - JVH
Tanvi Jain, Delhi - main GH
Sachindranath Jayaraman, Thiruvanananthapuram - Hoysala
P. Sam Johnson, Mangalore - JVH
Shani Jose, Chennai - JVH
Debajit Kalita, Tezpur - JVH
Rupinderjit Kaur, Longowal-Sangrur - JVH
Manoj Kumar, Allahabad - JVH
Kiran Kumar V B, Cochin - JVH
Neelam Jeevan Kumar, Warangal - JVH
Sulbha Kumar, Delhi - JVH
Sneh Lata, Delhi - Hoysala
Nirupama Mallick, Bangalore
Jagjit Singh Matharu, Kapurthala - JVH
Debasisha Mishra, Bhubaneswar - JVH
Narayanan Namboodiri, Cochin - CVH
Gobinda Chandra Panda, Bhubaneswar - JVH
Sukanta Pati, Guwahati - CVH
Sreejanani Anurag Prasad, Delhi - JVH
T. Prasad, Palakkad - JVH
G. Ramesh, Hyderabad - Hoysala
Karabi Rajbangshi, Guwahati - JVH
Ashok Kumar Sah, Delhi - JVH
Harsh Saini, Bangalore
Md. Shariq, Chennai - JVH
K. Sumesh, Bangalore
Rajeev Bhandari, Solan - JVH
Rajesh Sharma, Shimla - JVH
Patanjali Sharma, Banasthali - JVH
Neeraj Kumar Shukla, Indore - JVH
Rajinder Pal Singla - Hoysala
Mandeep Singh Rawla, Longowal-Sangrur - Hoysala
Gyan Prakash Tripathi, Jaunpore - JVH
Lalit Vashisht, Delhi - Hoysala
CVH = Centennary Visitors House, in 3B, number 4 in the map,
JVH = Jawahar Visitors House, in 1D in the map, close to number 8,
main GH = Main Guest House, in 3C, number 10 in the map,
Hoysala = Hoysala House, in 2D, number 68 in the map.
If you do not see your accommodation above, contact us.
Click here
to know how to reach your accommodation.
Invited participants who have confirmed:
M. S. Narasimhan
I. B. Passi - main Guest House
M. G. Nadkarni - main Guest House
Ajit Iqbal Singh - main Guest House
A. Sitaram
M. S. Raghunathan
Plan of the conference
There will be a series of three talks by Rien Kaashoek. These will be survey style talks on a common theme. Then there will be individual talks.
Registration
Registration is now closed.